The gun you carry says a lot about your character. When looking for the top guns for every man based upon their character, there are a few that stand out very clearly. Some are more subtle and take some figuring out.
Whether you're the strong silent type or outspoken, there's a gun that fits your personality just right.
Smith & Wesson Model 686 – The Old School Cowboy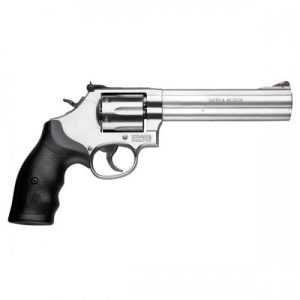 These rugged, opinionated types ooze John Wayne persona everywhere they go. They're not as common anymore, but luckily, there are plenty of modern revolvers that fit their bow legged holster.
They need something to tote on their waist that speaks as loud as they do. The Smith & Wesson Model 686 is the perfect gun for this personality because it's as tough as the hands that hold it.
It's sturdy, lightweight, and easy to conceal. With a capacity of 7 rounds, you'll have almost as much as a modern 9mm in an easy, point-and-shoot package. No frills here. Only serious shooting and the ability to hold up under continuous Magnum use.
Oh, and the hidden hammer? Yeah. You can shoot it from your pocket.
Remington Model 700 – The Self-Sustained Hunter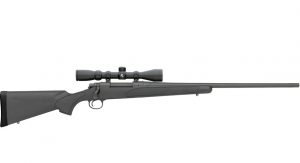 For the environmentally conscious, avid hunter types, you need a good all-around hunting gun so you can provide you and your family with the food you need while skipping the big box store or packaged meat counter.
Chambered in .30-06 Springfield, the Remington Model 700 is one of the most versatile rifles on the planet. Not only can you hunt deer, elk, and other big domestic game, but there are also very few large game species in Africa, New Zealand, and elsewhere that you can't down.
For the exotic hunter, you can't beat the practicality and versatility of this machine. It's also reasonably priced, reliable, and easier to use than most. Your accuracy won't suffer a bit, and it's considered more ethical than many other options.
This quality rifle in the hands of a skilled marksman will make 300-400-yard shots look like a piece of cake. The beauty of it is that the variety of bullet weights and types available are as varied as the game you want to hunt.
Mossberg 500 – The Family Protector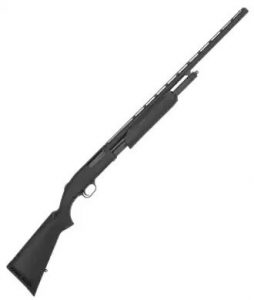 For generations, Mossberg has offered some of the best options for home defense. If you're a family man arming yourself against intruders in the home, the Mossberg 500 is the only way to go.
This shotgun is devastating at close range, and you don't even have to be accurate. Its trusted reliability will give you confidence while sometimes just the noise of racking the pump alone will scare someone away.
It and its ammunition are affordable so you can practice to perfection. It's economical, rugged, and has a track record for reliability. Not to mention, if you feel the urge, you can customize it with any number of accessories.
Natural controls make it easy to execute in a time of stress.
Flintlock Pistol – The Ultimate Collector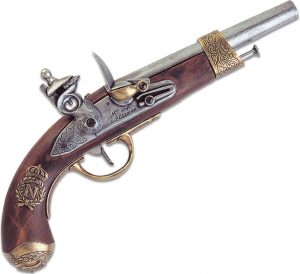 You know all there is to know about guns, and you're proud of it, too. Some might call you a know it all, but you affectionately refer to yourself as an enthusiast. You may even be an educator, set out to inform the world of gun safety and everything else.
For you, nothing short of legendary will do. That's where the antique flintlock pistol comes in. Whether you've been on the prowl for a pair of German officer pistols by Heinrich Sturm or you want an American-made Model 1836, these are the perfect addition to your collection.
They demonstrate your love for the ancestry of firearms, and if you shop carefully, you can still find fully operational flintlock pistols that are a blast to shoot.
Colt Model 1908 – The (Gun) Hipster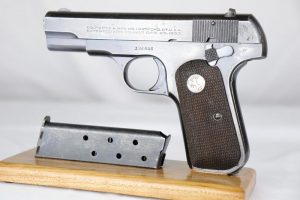 Move over, beard comb. The vest pocket is now reserved for the perfect vest pocket pistol. It's a throwback to popular, prohibition-era pistols and was all the rage before these tiny, concealable semi-automatics were cool.
There's something about the retro styling of the Colt Model 1908 that's surprisingly modern, in a flippant, "I don't care what you think of me" sort of way.  It's the perfect way to prove that size, or age for that matter, doesn't matter.
Glock 43 – The Noob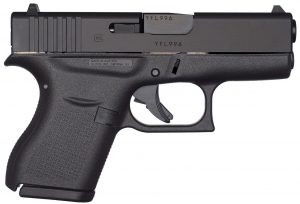 The Glock G43 is legendary. Not only is it ultra concealable, accurate, and reliable, but it's a fantastic pistol for all shooters, especially beginners. Glock is known for their quality manufacturing and ergonomic grip, so almost everyone loves how they shoot.
For gaining confidence in your shooting ability, it's the perfect tool. Natural controls and effortless firing give you the start you need while still looking like a pro with excellent taste in firearms. Plus, with the right grip, you'll be on the same level as advanced shooters.